Wariya I.
"Ewwww… What's that smell!" The sentence that's often heard when people smell Pla Ra for the first time.
          Pla Ra is a fermented freshwater fish people from the Northeast of Thailand (Isan region) have in their homes but some Northern dishes contain Pla Ra as well. Pla Ra is one of the major ingredients in almost every dish in "Isan" cuisine. But recently, Pla Ra doesn't stick to its traditional dishes and have expanded into other types of foods.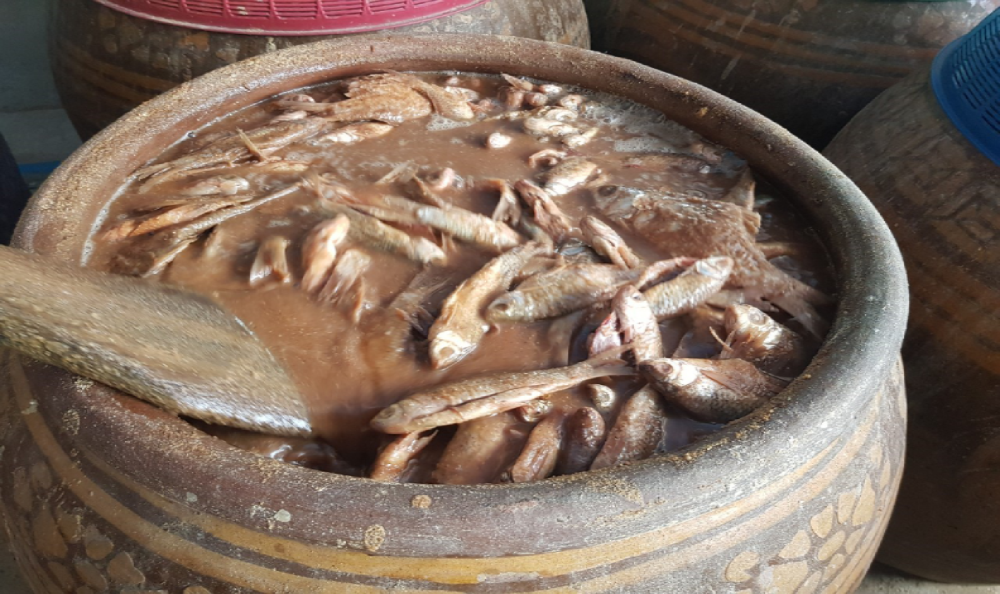 Before Bangkok Foodies will take you through that, let us educate you about the background of Pla Ra just a bit.
Pla Ra [ปลาร้า] or in some Isan provinces would call Pla Deak [ปลาแดก] is an ingredient that is used diversely made by fermenting small fish with rice bran and salt fermented in a closed container for at least 6 months. In our previous article about Khanom Chin, we mentioned that some Southeast Asian countries and a certain tribe use Pla Ra in their Khanom Chin dishes. So this deathly smelly fermented condiment isn't common only in Isan cuisine but also in Cambodian, Lao, Vietnam cuisine. If you travel around Southeast Asia, you can't avoid seeing or more notably, smelling it.
In Laos, they call it 'Pa Deak' [ປາແດກ] which is pretty similar to Thai.
In Cambodia, they call it 'Pra Hok' [ប្រហុក].
In Vietnam, it is called 'Mum Ca ' [Mắm Cá]
In Myanmar, it is called 'Ngapi' [ငါးပိ].
This rancid smelling ingredient maybe one of the oldest in Thai history, there are shreds of evidence such as Du Royaume de Siam by Simon de La Loubère and the discovery of clay pots with fossilized fermented fish indicating that Pla Ra has been around in Isan culture for around 6,000 years. Originally purposed to preserve fish for the Dry Season but was later found, if they left the fish to be fermented longer, it would indeed, become tastier.
Pla Ra now can be found across every region of Thailand and prepared in various ways. You can fry the chunks of Pla Ra and eat it with rice as a quick and potent snack, otherwise, you can mix it with Thai mackerel, chilli, roasted garlic, Thai pepper, roasted shallot, lime juice in a mortar and garnish it with cilantro and have a Nam Prik Pla Ra. Dip your preferred veggies in and you're good to go.
Som Tum Pla Ra [ส้มตำปลาร้า], is a very famous dish which has become a nationwide favourite. The sourness from the unripe papaya, chilli, tomato, fish sauce and palm sugar mix with the deathly smelly fermented condiment, yum! This dish is available from high-end restaurants but it is essentially known as a 'street food' found at food carts on the street.
Some Thai soups contain Pla Ra as well, for instance, Keang Hed [แกงเห็ด] which you can find at street vendors also. This dish is very popular amongst office ladies as it is full of vegetables; pumpkin, shallot, chilli and mushroom, and they believe eating this light and healthy dish will keep them in shape.
Keang Ohm [แกงอ่อม], this soup is full of herbs and spices. You can put short loin, pork ribs or chicken in this soup. Very aromatic from the herbs, spices and Pla Ra, flavourful and spicy, this is dish is like a party in the mouth.
Moo Pla Ra [หมูปลาร้า] AKA. Moo Tum [หมูต่ำ] is a Pla Ra marinated pork on a stick, usually, dip in Jeaw Bong [แจ่วบอง] and Pla Ra dip. A very famous Moo Pla Ra cart is located on Khok Wua Intersection called Moo Pla Ra Ratchadamnoen.
As mentioned, Pla Ra doesn't stop only at the Thai food genre. It did cross to the Wafu genre. Wafu (和風) means Japanese-style, for example, Wafu salad dressing and Japanese curry etc. A restaurant called 'I'm Yellow Café & Restaurant' combines the deathly smelly fermented condiment in their Japanese Curry to give a unique flavour to this comfort food.
We presume that this horrid smelly product will merge itself with other types and styles of cuisine as the modern-day progresses. At J'aime by Jean-Michel Lorain, a fine dining restaurant located in Sathorn, they have created a spectacular dish of foie gras in a sort of 'fish sauce' broth, not dissimilar to Pla Ra, and it's quite a fantastical marriage of flavours.
Want to get noticed?!
Get in touch with the Foodies Marketing Specialist.
Promote or Advertise with us: contact@bangkokfoodies.com
Join our community: BangkokFoodies OFFICIAL
Follow our Fan Pages: @BangkokFoodies (IG) / Bangkok Foodies (fb)
We've gone regional! Check out our new Parent Site: www.FoodiesOFFICIALAsia.com
Follow our Parent fan pages: @FoodiesOFFICALAsia (IG) / Foodies OFFICIAL Asia (FB)
#eatlife

Author: Wariya.I
Wariya has a strong passion for cocktails,
and you may have met her several times
but she likes to keep it casual and low-profile.
She also enjoys quality tea, especially
Japanese green tea