Thai Taste Hub Mahanakhon CUBE | Bangkok Foodies
Imagine all your Michelin-rated and otherwise cult favourite street food vendors of Bangkok all concentrated in one place; under one air-conditioned roof, on the same floor and within arms lengths of each other. Yep! It's a reality. Thanks to the team at King Power who have dreamed up Thai Taste Hub Mahanakhon CUBE, a street-food-fanatic food zone located at Mahanakhon CUBE in the heart of Silom's bustling business district.
The Thai Taste Hub concept was not the first of its kind, for those of you who are unaware, the original Thai Taste Hub was launched 3 years earlier at the King Power Rangnam. Khun Pavat Lertvatrakan, Vice President of Food & Beverage and Theater, King Power International had spoken with Bangkok Foodies about the newest location, stating, "…. we set about bringing together legendary names in Thai street food and launched the very first Thai Taste Hub on the third floor of King Power Rangnam, within a space designed to resemble a street food neighbourhood by night. Eventually, the concept was expanded to become Thai Taste Hub Mahanakhon CUBE, a collection of 12 eateries now serving their much-loved dishes in the heart of Silom and Sathorn."
The vendor selection was no easy feat, the King Power team had searched high and low to poach only the very best of the best of quality Thai street food brands and all of which provide different stories to match their specialised plates. "Vendors chosen for Thai Taste Hub are well known for their unique flavours. They have a story or 'legend' behind their restaurant establishments and are widely regarded as delicious, explained Khun Pavat.
The final selection came down to a curated list of 12 restaurants including a mix of legendary and Michelin Recommended venues. For a start, hungry hub-bers will have the opportunity to try some of Thailand's most notable street vendors, like Maverick Suki, a 60-year legend in tender Pork Sukiyaki and Chicken Fried Noodles that has been making the fragrant dishes since the year 1960. Then there's celebrity Chef, Chef Andy Yang's, Pad Thai Fai Ta Lu Dinsor Road, a renowned Pad Thai created by the Chef of a Michelin star-rated restaurant, Table 38 (2020 Guide).
This unique Pad Thai is renowned for its special "flame engulfed" technique to infuse flavour into every noodle. Not to mention, Phed Phed Hey! A branch of the Phed Phed Bistro group (Michelin "Guide Bib Gourmand 2021) which specialises in authentic Isan food based on generations-old recipes, served up in excess amounts of vibrancy and equal amounts of spiciness.
Many foodies have argued that moving into "food court" environments would kill the buzz and the vibe of street food vendors, and would become akin to Singapore's famous, more orderly food courts. Although the movement of getting street food off the streets and into or under roofs seems to be inevitable in Thailand, the King Power team argue that the space offered to vendors have provided an opportunity for them to further succeed by expanding their business, which helps to secure the legend of their family recipes.
"For many restaurants who were in their second or third generation of running the family business, we have seen that they have truly welcomed the opportunity to grow their business. Many eateries have a long history with recipes passed down through the generations without opening any additional branches, but now with a second location, they are able to serve new customers in the heart of the city. Many of them share the vision of Thai Taste Hub when it comes to being able to showcase Thailand's street food and making it more accessible to local and international visitors."
Those visitors to Thailand will be happily exposed to some of the Kingdom's most ubiquitous street snacks, like the Thai-Chinese "doughnut", Chumpol Patonggo, Buriram's famous deep-fried dough make their way is famous for being crispy on the outside and hyper fluffy on the inside or they can experience Limlaosa-Legendary's fish balls with their signature bouncy, full-bodied texture. A fishy explosion long enjoyed on SongWad Road for over 80 years.
And what's a Thai street food meal without coconut rich desserts! Pa Hong Thai Dessert-Standing in Nang Loeng Market since the time of King Rama V, which is well known for Khanom Tako—a Thai pudding, sticky rice with Black Bean in Sweet Coconut Milk, and Coconut Milk Jelly among other classic Thai desserts.
Luckily for local residents and (eventual) international visitors, Thai Taste Hub Mahanakhon CUBE, located on the 1st floor of Mahanakhon CUBE Tower is now conveniently connected to Chong Nonsi BTS Skytrain station. It is also open all day so neighbourhood diners can munch down on their Patonggo's whether it's for a late breakfast or a late-night snack. Khun Pavat noted that "From the feedback, many guests have appreciated the chance to easily access simple and delicious street food at a friendly price point. It's a convenient location and direct connectivity to Chong Nonsi BTS also makes it an attractive food destination, especially for the Silom and Sathorn office crowd."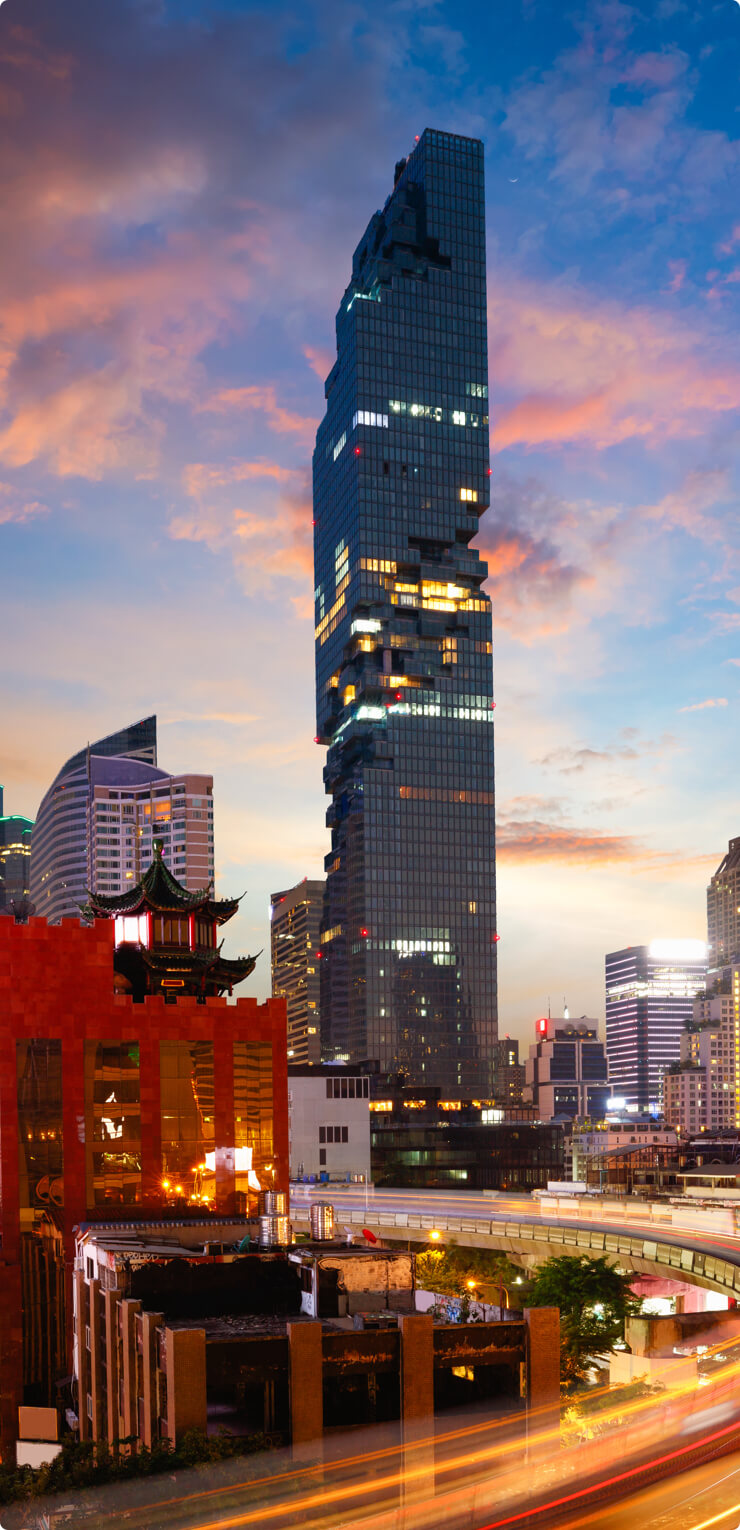 The design is also a big part of the Thai Taste Hub Mahanakhon CUBE experience, chic and creatively designed in a modern Sino-Portuguese design, with pieces showcasing the work of five local Thai artists including Lolay, Benzilla, BeerPitch, Pim and Gongkan, artfully placed throughout. A celebration of Thailand's art and culinary Scene which provide as much a feast for the eyes as for the appetite.
Location: 1st Floor of Mahanakhon CUBE
Chong Nonsi BTS Station, Exit 3, 96 Narathiwat, Silom, Bangrak, Bangkok 10500
Limited parking is available
Opening Hours: 10:00hrs. – 20:30hrs.
Number of restaurants: 12 restaurants
Capacity: 200 seats
Telephone: 02-677-8721
Website: https://kingpowermahanakhon.co.th/cube
Email: contact.cube@kingpower.com
Official Hashtag #ThaiTasteHubMahanakhonCUBE #KingPowerMahanakhon #MahanakhonCUBE
________________________________________________
Want to get noticed?! Get in touch with the Foodies Marketing Specialist.
Promote or Advertise with us: contact@bangkokfoodies.com
Join our community: BangkokFoodies OFFICIAL
Follow our Fan Pages: @BangkokFoodies (IG) / Bangkok Foodies (FB)
We've gone regional! Check out our new Parent Site: www.FoodiesOFFICIALAsia.com
Follow our Parent fan pages: @FoodiesOFFICALAsia (IG) / Foodies OFFICIAL Asia (FB)
#eatlife