Khon Kaen Foodie Treasures | The "Other" Mountain Destination | BANGKOK FOODIES
When it comes to holiday or vacation in Thailand, the obvious choice would be to visit the Northern mountains or Southern beaches. For mountain-adventurers, Khao Yai in Nakhon Ratchasima; Doi Inthanon, Doi Suthep and Doi Ang Khang in Chiang Mai; Doi Tung in Chiang Rai and Phu Tub Berk in Phetchabun are popular hot spots but are (now) generally loaded with local tourist. Bangkok Foodies, however, discovered an unexpected destination for those seeking peaks in their terrain, and a little cooler weather, which is the quaint North-East city of Khon Kaen.
Khon Kaen is one of the four major cities of Isan (North-East of Thailand), Thailand, also known as the "big four of Isan", the others being Udon Thani, Nakhon Ratchasima, and Ubon Ratchathani. It's also famous for being the biggest archaeological site in Thailand and has many national parks: Phu Wiang National Park, Phu Pha Man National Park with Bats Cave as a highlight and Nam Phong National Park. 
Khon Kaen is rich in a mixed culture not only from its Thai-Isans, Thai-Laosians and local tribes that live there but also the culture from the Chinese Immigrants. It is one of the Thai provinces that has a big community of Thais with Chinese descent. Khon Kaen is the Thai-Laos border where people from both countries trade. So there are plenty of food choices for foodies to explore!
Here are some of the restaurants we managed to discover on our trip to Khon Kaen which has a strong Vietnamese-Chinese influence. The first is Aim Oat. This breakfast spot opens at 4 am until 12 pm (midday) only! They serve local speciality breakfasts such as Kai Grata [ไข่กระทะ] (20 THB) which is a locally-famous dish of fried eggs in a small metal wok topped with Chinese sausage and Vietnamese sausage. Foodies can season their Kai Gata to their taste preference with soy sauce, chilli sauce, ketchup and white pepper. It's like normal fried eggs but elevated.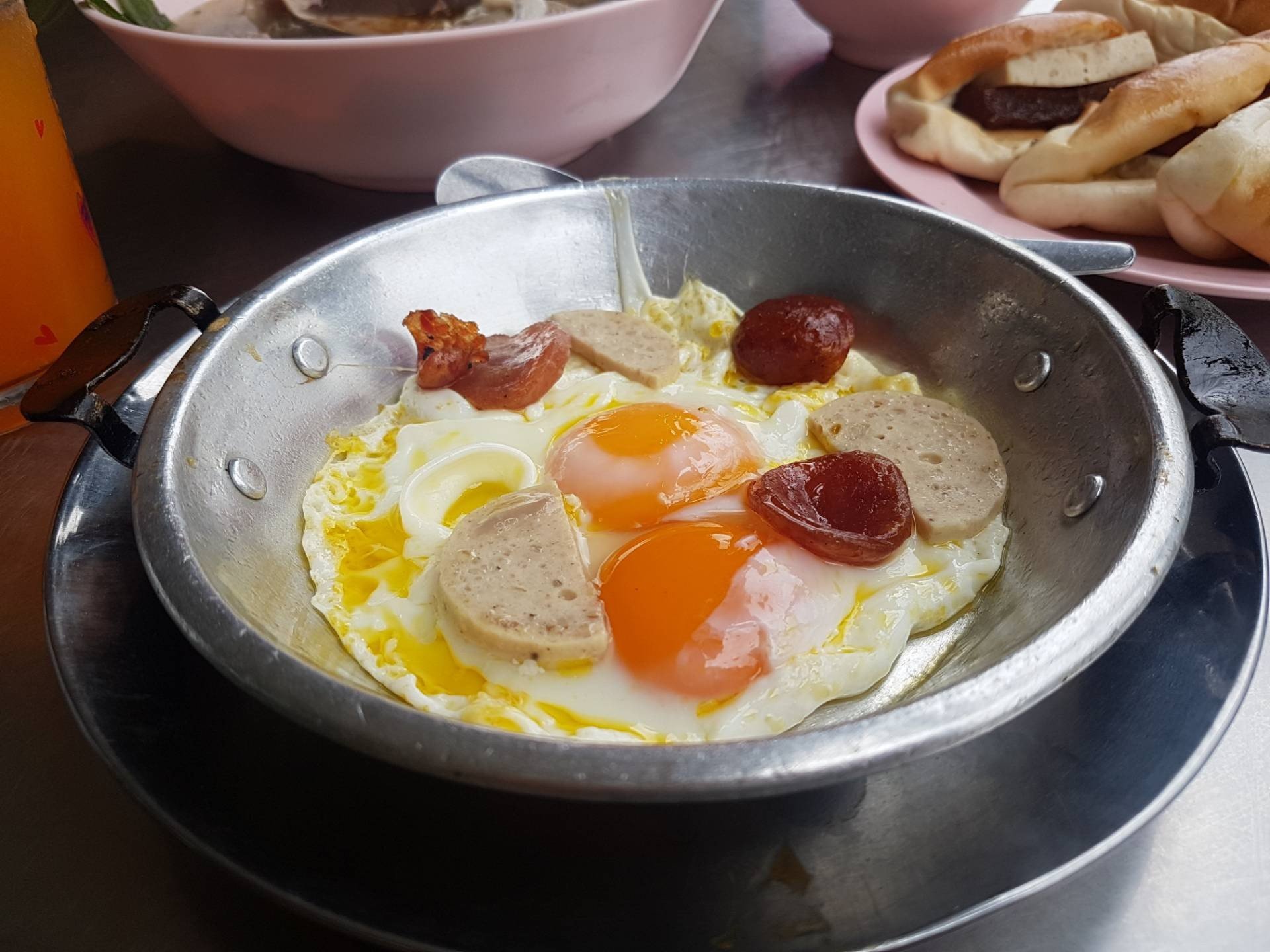 Om Piang is a restaurant that serves Isan food. Bangkok Foodies wouldn't suggest something so clichés like Som Tum and fried freshwater fish with the homemade sauce but they are also great for Beef Kaeng Ohm [แกงอ่อมเนื้อลาย] (65 THB), a beef soup which uses Pla Ra (Fermented freshwater fish), and Chicken Tom Yum with Tamarind leaf [ต้มยำไก่ใบมะขาม] (65 THB), a clear Tom Yum soup with chicken and tamarind leaf. Pair each of them or mix both soups in your plate and eat the mixture with hot sticky rice or jasmine rice, either way, foodies will be greatly satisfied.
Khon Kaen is also famed for its provincial dishes, called Joke – (Guay) Jub (โจ๊กจั๊บ), Joke – (Tom) Sen (โจ๊กเส้น) and (Guay) Jub – (Tom) Sen (จั๊บเส้น). Joke-Jub is a mixture of Congee with rolled noodles. Joke-Sen is a mixture of Congee with vermicelli. Jub-Sen is a mixture of Guyajub and Tomsen. The Congee and Guayjub originated in China to which Chinese immigrants brought with them. The Tomsen is an Isan twist from the usual vermicelli. Usually, people eat them separately, so the special fusions were original creations from the people of Khon Kaen.
Bangkok Foodies don't know when these Khon Kaen dishes were created or who exactly came up with the idea but whoever that person is, we are eternally grateful. And the very famous restaurant for this dish is Joke Guayjub Tomsen Butr Queue (โจ๊ก ก๋วยจั๊บ ต้มเส้น บัตรคิว).
For foodies who are also drinkers, you can enjoy some legit cocktail bars such as The Gentle Bar. The Co-Founder, Kittipong "Guide" Tuntisripreecha, was inspired by a spy movie adapted from the famous graphic novel, The Kingsman. They try hard to serve cocktails with Bangkok quality, but if you prefer something more local realizegallery is where they serve local ingredients cocktails. Otherwise, if you need some jazz music to go with your cocktail then Hidden Town is a perfect spot!
If you're wondering where you should stay when travelling to Khon Kaen, one of the hotels that would provide the most ideal comfort is Avani Khon Kaen Hotel & Conventional Centre. The hotel was designed and decorated with contemporary Khon Kaen art. From the pattern of the Khon Kaen fabric to the top Khon Kaen architecture, details are combined with the modern architecture in harmony.
There are 5 types of room for guests to choose from. The standard room or Avani Room which Bangkok Foodies stayed at, is quite spacious if compared to some of the hotels in Bangkok at the same rate. The hotel prepares a plate of fruits as a snack on the coffee table next to the room's big window that shows you the view of the city or the pool.
For foodies, one of the main points to choose a hotel to stay is food Obviously! At Avani Khon Kaen Hotel & Convention Centre, they have quite a decent selection of restaurants for guests to dine in. The Chinese restaurant here, Ju Fang, is very famous amongst local people. Big families of Chinese descent often come here for a family gathering. Their Dim Sums are freshly made every day. If some of the foodies are worried that there would be high on MSG, please stay calm because the Head Chef who also has concerns about MSG, assures that there is absolutely no MSG added. The prices for Ju Fang's Dim Sum Buffet are Monday-Friday 399 THB/ person and Weekend 499THB/ person.
For breakfast, guests are welcome to enjoy an international buffet of fluffy omelette or eggs the way you like, a variety of bread and special croissants made from local sticky rice at The Globe. They also serve grilled pork on a stick and sticky rice and Vietnamese bun with Vietnamese sausage and Chinese sausage which are local breakfast staples. If you are healthy foodies, a salad bar and infused fruits or herbs water are at the ready.
 If you want to take a break or to work remotely, Cake and More, the in-house café has coffees, teas and juices to pair with cake or bakery of your choosing. Bread and pastries are also available for guests to eat-in or takeaway.
So next time when you think of going to the mountains, keep in mind, there's a city called Khon Kean, waiting for your visit.
Want to get noticed?!
Get in touch with the Foodies Marketing Specialist.
Promote or Advertise with us: contact@bangkokfoodies.com
Join our community: BangkokFoodies OFFICIAL
Follow our Fan Pages: @BangkokFoodies (IG) / Bangkok Foodies (fb)
We've gone regional! Check out our new Parent Site: www.FoodiesOFFICIALAsia.com
Follow our Parent fan pages: @FoodiesOFFICALAsia (IG) / Foodies OFFICIAL Asia (FB) 
#eat-life

Author: Wariya.I
Wariya has a strong passion for cocktails,
and you may have met her several times
but she likes to keep it casual and low-profile.
She also enjoys quality tea, especially
Japanese green tea